Why is Anita's Makeover best for laser hair removal in Gurgaon?
There is always a troubling question about whether the clinic is reliable or not. When it comes to laser hair removal, we give you several reasons to trust Anita's Makeover for your skin and beauty as well laser treatment.
1. We have an experienced team of in-house laser dermatologists at our clinic.
2. We provide you free consultation with doctors which is very helpful for individuals with skin problems.
3. Anita's Makeover Clinic has state-of-the-art facilities which are best in the industry.
4. Our clinic uses advanced laser equipment that is US FDA approved.
5. All our physicians are certified and well trained.
6. Our management follows strict guidelines and protocols laid down in the clinic for better service effectiveness.
7. The laser treatment that Anita's Makeover offers is a quick process and relatively painless.
8. Our team is also able to provide the treatment to the specific needs of the client.
9. Anita's Makeover has been successfully providing makeup service for more than 8 years and we have been able to satisfy 90% of the customers.
If all these reasons are enough to choose us then you must visit our nearest beauty clinic or studio once so that you can proceed to remove your unwanted hair, and say goodbye to all those unwanted hairs and show off your beautiful flawless skin.
How laser hair removal in Gurgaon works?
Many light-based techniques are used for hair removal today, while all treatments are the same. During a laser hair removal treatment session, a dazzling flash of light is emitted onto the unwashed hair. Light penetrates through the skin and selectively targets the melanin in the hair follicles. The pigment absorbs the light energy, effectively destroying the hair. Depending on the size of the handpiece being used, multiple hairs may be treated at once.

Laser hair reduction is a process in which laser light is absorbed by the melanin pigment in the hair to cause thermal damage to the stem cells present in the hair without causing any damage to the surrounding skin.

Several sessions are needed to remove the hair follicles during their growth phase. Numbers of session may vary person to person. Most patients require at least 5 to 6 treatments to see long-lasting results. Over time there may be a need for normal session as well to maintain the results. Patients will notice their hair thinner and weaker and smoother skin as a result after the first treatment. The results will become more clean, efficient and effective after each session until all ROMs are destroyed


Our Doctor use only best technology for laser hair removal
Anita's Makeover is the only affordable beauty clinic in Gurgaon with all latest equipment & machines of laser technology which make us capable of treating any type of hair on different skin types.

Our aim is to provide the latest and safest option available in aesthetics to our customers. Our Clinic is a step up from the technology which is currently available in leading beauty clinics around us in gurgaon.

The latest technology provides an additional advantage which is super enmy for stubborn & unwanted hair growth with zero risk to the surrounding skin.
LOOKING FOR UNWANTED HAIR REMOVAL IN GURGAON?
Anita's Makeover is a one stop solution for permanent laser hair removal in Gurgaon. Here we provide laser hair removal services from single body parts to full body like: face, underarm, chest, abdomen, bikini and legs to full body at affordable price
How are the Before and After results of laser hair removal treatment?
Actual patient treated at Anita's Makeover beauty clinic sector 46 Gurgaon. results may vary person to person.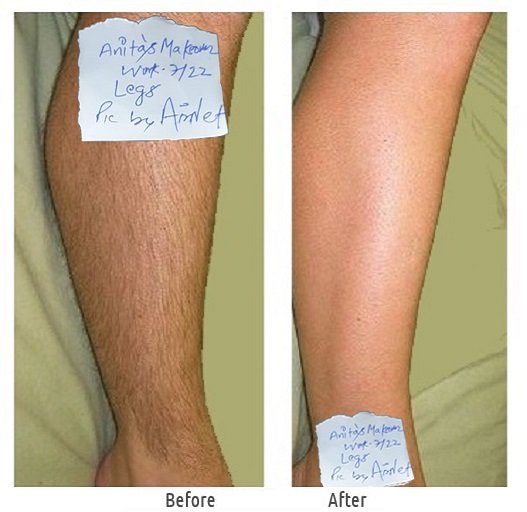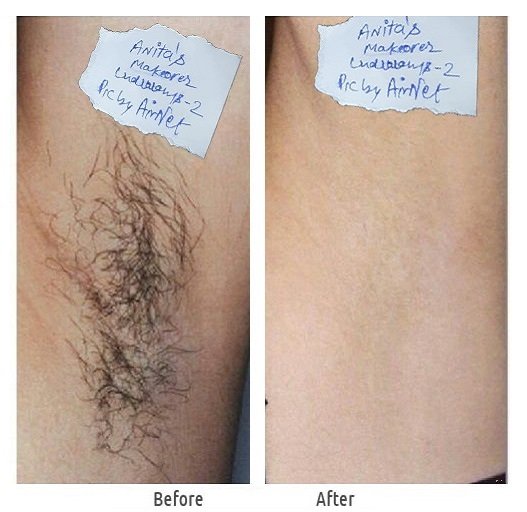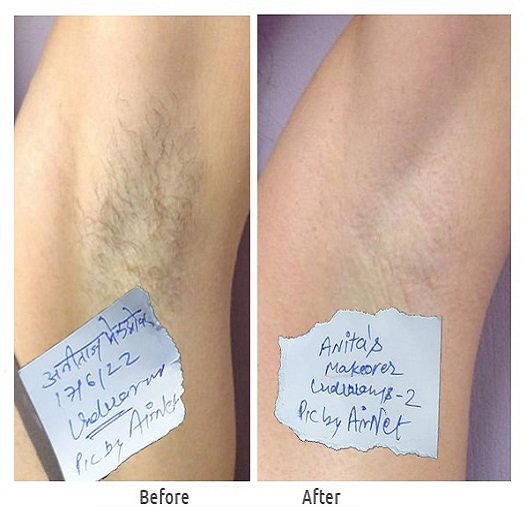 Best
skin care clinic treatments in Gurgaon
Best Laser Hair Reduction Treatment in Gurgaon
Anita's MakeOver offers the best laser hair removal treatment in Gurgaon . With the help of this treatment, we can make sure you can get rid of unwanted hair on your body. Our best dermatologist for laser hair reduction treatment, customize your treatment plan based on your skin and hair type.
Checkout other Hair & Beauty Salon Services in Gurgaon
Nail Technician Course Gurgaon Nail Salon Gurgaon Makeup Artist Courses In Gurgaon Best Hair Salon Gurgaon Beauty Parlour Near Me Gurgaon Unisex Salon Near Me Gurgaon Makeup Artist in Gurgaon Makeup Salon Near Me Gurgaon Beauty Clinic Gurgaon Near Me Laser Hair Reduction in Gurgaon Hair Salon In Manesar Salon In Manesar Makeup Salon Near Me Manesar Bridal Makeup Artist in Manesar
Laser Hair Removal in Gurgaon - FAQ
Q. Do laser removes hair permanently?
Most people experience hair removal that lasts several months, and it can last for years. But laser hair removal does not guarantee permanent hair removal. When hair regrows, it is usually thinner and lighter in color. You may need maintenance laser treatment to reduce hair loss in the long run.
Q. How painful is laser hair removal?
No, Now we entered in the technology era, so with the help of latest technology we can offer 100% painless and hassle free treatment.
Q. How many laser hair removal sessions are necessary?
Depends on your individual needs, but most people can finish their initial treatment within 4-6 treatments. When the sessions are done, you will enjoy the numerous benefits of a life without unwanted hair..
Q. Can laser hair removal cause cancer?
It's a myth that laser hair removal can cause cancer. In fact, according to the Skin Care Foundation, the procedure is sometimes used to treat certain forms of precancerous lesions. Different lasers are used to treat sun damage and wrinkles.
Q. What is the cost of permanent laser hair removal in Gurgaon?
Average Laser Hair Removal Cost by Treatment Area in Gurgaon ranges from Rs. 1,500 to Rs.20,000 (per Session)
Q. Is permanent hair removal possible?
Permanent hair removal is possible, but it is often expensive. Anita's MakeOver electrolysis process provides permanent results. In contrast, the results of laser hair removal are long lasting but not always permanent. Health insurance does not typically cover the cost of these procedures.
Laser hair removal Gurgaon reviews
Here are some recently updated our actual clients' reviews who take beauty services from one of our beauty clinics and makeup studios.
I love the way how their staff attended me and behaved with all the client which were there at that moment. Even they have provided me one free Doctor consultation by Dr. Ayesha who has provided me all the answers related to my queries on how to control and handle the acne marks and pigmentation after having this discussion i opted for one carbon laser facial from there by Dr. Ayesha and i was shocked to see the after results.
Nischal Saini
Sector 46, Gurgaon

Excellent service at Anita's Makeover. Specially Dr Saini. she is too good and polite, expert in her work. I am totally satisfied with her services I have taken Chemical peel, laser hair reduction and Micro needling. she is expert of all and results are awesome. I am not going anywhere now but here for other services as well..staff like Diksha and Manisha they are excellent in their work. Keep up the good work cheers..
Pooja Bhatt
Sector 23, Gurgaon
I got my keratin treatment done here. The staff is super friendly and nice. Everytime you visit you see happy faces. Manisha is really helpful and guides you thoroughly.

My keratin treatment was performed by Nazim and Mubarak. Both of them really know their job. I would recommend everyone to visit the place for any and every salon requirements. :)
Ayushee Agarwal
Sector Market, Gurgaon
Laser Hair Removal Cost In Gurgaon
If you want to know the cost of laser hair reduction in Gurgaon? So let me tell you that all skin clinics in Gurgaon ranging from normal to reputed clinics charge Rs 1,5 00 to 2,500 for a single session of laser hair removal. If one has the latest technology or machines, they increase their cost. This cost will depend on the number of sessions, the type of machine and the thickness of the hair.

Depending on this, Rs 15,000 to Rs 30000 per session is charged for full body laser hair package. Other factors, such as the reputation of the clinic or hospital, can further influence this cost. But even after having all this here, the cost of laser hair removal treatment with hi-tech machine and trained expert starts from just Rs.999 per session..